Private, experiential Tantra sessions grounded in your relaxation and pleasure.
Never be Premature again. 
I am Joy and you will find me available for smart, sexy talk about intimacy.

My career includes doing over 3,000 in-person sessions over 20 years.
Do you want to know how to stay hard?
As a result, you will have higher overall energy to live a better life
As a Tantra Coach I am open to phone sessions with most all sexual interests.
For Men: I focus on a rarely taught, multi-orgasmic method.  This method includes how to have more stamina and never be premature again.
This is AMAZING and proven over the centuries since Tantra is about 5,000 years old.
This is a self-pleasuring practice (masturbation).
And I guide you in a session that you purchase.
You will be surprised at how much you will enjoy these techniques.
For Women: I coach how to feel free to express your sensual secrets. I am a compassionate, wise woman who loves to help in any way possible.
You will be amazed how a few changes will give you so much pleasure and satisfaction.
I coach that joyful movement and calm presence afterwards creates sensual inspiration. This is Ancient Wisdom for the modern person.
You want to explore all your senses. Especially TOUCH, SOUND, AND TASTE. Our eyes are over stimulated in our culture.
Imagine such sensual sexual freedom and exploration!!!
Listen in to this recorded message as Joy describes the sessions.
In Person private sessions available.
Call 802-851-0048 to schedule your appointment now!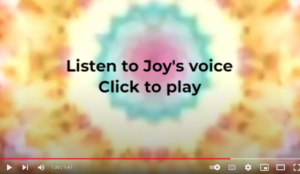 Please call 802-851-0048 between 10am and 10pm Pacific time and leave a message.  No texts please.
We will discuss your needs & pricing. Then return to the website to purchase the units of time that are right for you. Your session can last ½ hour to two hours depending what kind of skills you wish to develop.
Just to be clear: You are paying me for my time and my expertise. YOU are responsible for your experience and how you use what I offer.  No refunds.  Occasionally, in person sessions can be arranged.
---
Secure Online Payment – Credit Cards Accepted
---
New Products Available Now for Digital Download!
SHOP
Never Again Premature Ejaculation!
In this eBook, Joy presents an effective script that has proven successful to train her thousands of clients and stops premature ejaculation
.
Just practice these simple steps in self pleasuring and you will not be premature again.  Also you will feel orgasmic energy while holding on to high arousal (edging).
$20
How to Find a Woman's G-Spot
In this eBook you will discover how to do g-spot massage which will possibly lead to female ejaculation. You will also discover how g-spot massage along with clitoral massage will produce such pleasure that she will be begging for intercourse.
$20